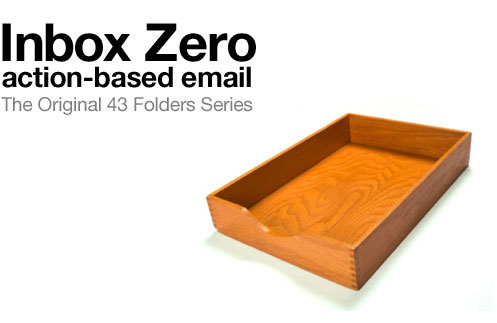 "Is there any e-mail in your inbox right now that you've read but you haven't done anything about?"
When writer and speaker Merlin Mann asks this question of a packed-to-overflowing audience of Google employees, the world's most prestigious knowledge workers laugh, ashamed (but relieved) that their dark secret has been brought into the light. You can hear the moment at minute 15:15 in the hour-long "Inbox Zero" video, a recording of a 2007 presentation that adds multimedia sparkle to the "Inbox Zero" series of posts at Mann's "time, attention, and creative work" blog, 43folders.com.
Teachers, of course, are also knowledge workers, and we get more than our share of e-mail: personal e-mail, administrative e-mail, informational e-mail from listservs and colleagues, e-mail from parents, and, most importantly, e-mail from students. Swing a cat, and you're likely to hit an educator who has over a thousand e-mails in his or her inbox. Such a mass of messages can cause high stress levels, and Merlin Mann offers compassionate and sensible advice for this 21st-century problem. Mann is one of the technology sector's go-to guys for productivity, whose enthusiasm for David Allen's Getting Things Done book has probably influenced the notable proliferation of applications and websites designed specifically to help people implement "GTD," as Allen's plan is affectionately called.
There are just a few key points to the Inbox Zero system, one of which is to "process" rather than "check" e-mail. Processing e-mail, says Mann, is "more than checking and less than responding"; it consists of clearing out your inbox (and your mind) by taking a small, simple action on every single e-mail. Often, this action is "delete" or "archive"; sometimes it's "reply briefly, then delete or archive" or "enter date on calendar, then delete or archive" or "enter task on To Do list, then delete or archive." Mann's technology background also makes him a useful source of advice on things like e-mail settings, filters, and templates; and there are in-depth pieces on such advanced topics as how to get rid of an enormous backlog of e-mail with an "Email DMZ."
So. Is there any e-mail in your inbox right now that you've read but haven't done anything about? — AMANDA FRENCH
Related Links:
Organize your to-do list online with Remember the Milk
Read Seth Godin's e-mail checklist before you forward that e-mail